It's been 24 brew days since the last Prosody Project beer. All of 2019 went by without one — and half of 2020. But when I heard that Yakima Valley Hops had Barbe Rouge for sale, I got nostalgic for a favorite back-home-in-the-802 beer: Burlington Beer's Barbe Rouge Single Hop IPA. There was no better time to dust off the ol' recipe and fire things up for Prosody (Barbe Rouge):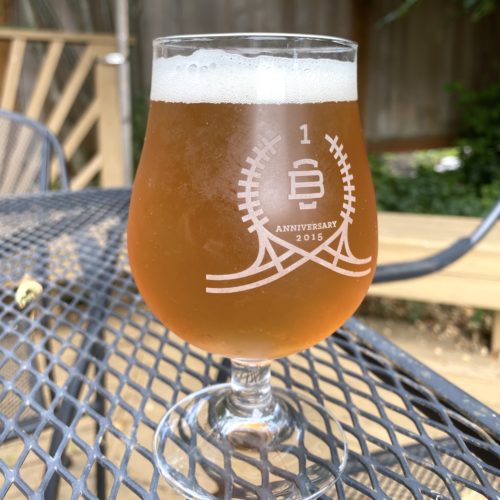 If you're not familiar with Barbe Rouge, it's a French hop grown in the Alsace region. My tasting notes from 2015 refer to strong notes of strawberry and melon — a very fruity profile that doesn't seem to have any peers. Subsequent crops (looking at tasting notes from 2017) don't seem to have been as intense, but those fruit notes are still present. In either case, I haven't had any since late June 2018 and knowing I could finally get my hands on the raw ingredients was not an opportunity that I could pass up.
Brew Day
The brew day was… uneventful? Leisurely? Got a later start than usual, and (having had some trouble with my mill recently) I made a calculated experiment and had the local HBS mill the grain for me and… did a brew day.
Vital stats? Initial mash pH reading was 5.76 but got it down to 5.2 with a lactic acid adjustment. Pre-boil gravity was probably 1.0401 at 7 gallons. After the 60 minute boil, I had 5.25 gallons go into the fermentor at 1.052 O.G.
I had a planned O.G. of 1.056, but that was based on assumptions with milling my own grain (i.e., quite fine). Given the calculated risk of using the store-crushed grain (i.e., coarser than my usual), the 1.052 seemed in the ballpark.2
Fermentation
With a "fresh enough" pack of A07 Flaship, I just… pitched. When the wort was down to temperature, I opened the pack and dumped it in. No starter. "Modest O.G. etc." — right?
Locked in the fermentation chamber's controller at 62±1ºF and let it do its thing. Six days later I had refractometer readings on either side of 1.008 and figured that I could call that F.G. Let it go three more days like that (did not raise the temperature for a diacetyl rest) before removing it from the fermentation chamber and adding 2 oz. of Barbe Rouge for the dry hop. Three days contact time, then gelatin fining; another day or so and then packaged — 5 gallons into the keg.
Overall Impressions
The Barbe Rouge comes through. And it's a perfectly drinkable beer. But I don't know that it's competition-worthy.3
AROMA. Medium hop aroma leads; fairly strong strawberry notes, some cantaloupe, supportive but background note like raspberry. Moderately-low malt impression; mostly grainy-sweet but some light toast as well. Fermentation seems clean overall; no obvious faults on the nose, could have some fruity ester notes but these are likely the same as (or buried under) the hops.
APPEARANCE. Burnished gold color with a fair amount of haze. Ivory head of dense, creamy foam with excellent persistence. Some fast-rising bubbles, but not an abundance of them.
FLAVOR. As with aroma, hops lead: medium-low fruity notes of strawberry, with light raspberry and very low melon (esp. cantaloupe). Malt is on the moderately-low side; lightly biscuity in flavor with a very light toast. Bitterness seems moderate and gentle — though on the low end for the style, and somewhat out of balance. Fermentation contributes a low berry ester to the flavor profile (accentuating that flavor from the hops). Also getting a very low (but detectable) off-flavor: slightly soapy and a little raw pumpkin — likely some at-threshold acetaldehyde. Balance is strongly hoppy. Decidedly dry finish.
MOUTHFEEL. Medium-low body, and seems on the thin side for the style. Carbonation is medium-high; gentle but significant. Subtle ethanol warming. No significant creaminess. No significant astringency.
OVERALL IMPRESSION. A good example of the style but not a knock-out. Seem to be in-band for style along most dimensions, but also lacks some of the complexity one would expect, as well as being slightly out-of-balance. Though APAs are not supposed to be an intense style, this one might benefit from having the volume turned up slightly. (Maybe that's a hint at some dulling from oxidation?) Biggest knock seems to be that it could use a little more malt character and complexity to balance the hops. The bitterness also needs to be boosted a bit. And if I'm right about the acetaldehyde4: that should easily be fixed by a bigger/healthier pitch, and then making sure the yeast has sufficient contact time with the beer.
Changes for next time? I'm not back to square one on the first, but adding the Golden Promise here didn't give it the complexity I was looking for. Maybe research some other "winning" APA recipes and see what tweaks I can make there. Second: yeast health! In other words: don't take the short cut like I did this time. And of course… next time it'll be a totally different hop to play with.
Recipe
The all-grain (BIAB) recipe for Prosody (Barbe Rouge) is as follows:
Water Chemistry
Starting with the Seattle municipal water profile (carbon filtered) as a base:
Target values in ppm

| Ca | Mg | Na | SO₄ | Cl⁻ | HCO₃⁻ |
| --- | --- | --- | --- | --- | --- |
| 51 | 12 | 6 | 105 | 45 | 23 |
0.43 g/gal. magnesium sulfate
0.39 g/gal. calcium sulfate
0.27 g/gal. calcium chloride
0.04 g/gal. sodium chloride
N.b., looking back at the previous Prosody Project recipes — this is kind of a big change in the overall water profile. Significantly less calcium and sulfate (by almost a third!) though still in roughly the same proportion; meanwhile chloride was only slightly less, and so that proportion goes from almost 5.5:1 (!!!) to something closer to 2:1.
Grist
4 lb. 8 oz. Great Western 2-row brewer's malt
4 lb. 8 oz. Thomas Fawcett Golden Promise
1 lb. 12 oz. Avangard Munich malt
8 oz. Briess white wheat malt
Hop Schedule
1 oz. Barbe Rouge (60 min.)
1 oz. Barbe Rouge (5 min.)
1 oz. Barbe Rouge (10 min. whirlpool at 180ºF)
2 oz. Barbe Rouge (dry hop 5 days)
Yeast
Imperial Organic Yeast A07 Flagship
Brew Day
Collect 31.37 qt. water and heat to 159.8ºF. Mash in; hold at 152.1ºF for 75 minutes. No mash out.
Remove filter bag from water. Squeeze filter bag to extract as much liquid as possible for wort. No sparge. Pre-boil volume should be 7 gallons.
Bring to a boil. Boil for 60 minutes; follow hop schedule as described above.
Cool to pitching temperatures as rapidly as possible. Post-boil volume should be approx. 5.25 gallons.
Aerate wort; pitch A07 Flagship yeast.
Start fermentation at 62ºF.
Beyond Brew Day
Allow fermentation to complete at 62±1F. (Should be at F.G. in approx 5-7 days; give it a couple more for yeast to "clean up".)
Dry hop as described in the hop schedule.
Optionally fine with gelatin; rack to a keg and carbonate to approx. 2.3 volumes.
Enjoy!
Details
Prosody (Barbe Rouge), a single-hop American pale ale5 by Tilde Gravitywerks
Original Gravity
1.052
Final Gravity
1.008
ABV
5.8%
Attenuation
84.0%
IBU
44
SRM
6
Links
Untappd
Flickr
The Prosody Project
About Rob Friesel
Software engineer by day, science fiction writer by night; weekend homebrewer. Author of The PhantomJS Cookbook and a short story in Please Do Not Remove. View all posts by Rob Friesel →