2019 Greg Noonan Memorial Homebrew Competition Results
¶ by Rob Friesel
I went even bigger than last year — with 17 entries across beers, ciders, and meads in the 2019 Greg Noonan Memorial Homebrew Competition. Had an excellent showing overall, as well as the added privilege of getting to judge in two categories (i.e., Saison; Smoked and Wood-Aged Beer).
I wasn't sure how to break down this year's wrap-up post. By each entry? Winners and losers? Highlight reel? So many options! I think I'l break it down by goals achieves, then the highlight reel of what remains.
Third Straight Vermont Meadmaker of the Year
That's right — a three-peat for Vermont Meadmaker of the Year. This year's #1 mead was Partial Shade, my cabernet sauvignon pyment. It scored 37, with largely positive comments, though both judges thought the honey impressions were slightly overshadowed by the grape. Not bad for a first attempt, if you ask me.
The rest of my meads did pretty well, too. The Naked Braggot took 3rd (also scoring 37); Syntactic Sugar also scored 37, but didn't place; Sunny Night scored 35.5; and a Cyser (blended from Syntactic Sugar and Literal Fidelity) scored 35. Average mead score for me was 36.3.
First Place Beers (Finally!)
I've been entering competitions since 2016, and despite strong overall performance, especially with meads (vide supra), a First Place medal has eluded me for beers. Until now! I finally hit that milestone with not just one but two beers taking first in their categories.
Half Dark took first in Amber European Beer with 37 points.
Le Rousse won as well (surprising me) with 34.5 points in German Wheat, Belgian, and French.
Guess I can do pretty well with amber beers, eh? To the surprise of no one.
Other Medals
Tilde Festbier came home with a 2nd place medal for Pale European Beer — though oddly the score was a mere 28.5 compared to the 38 that it scored in the first round of NHC.
Creighton's Quip (my Irish Red Ale) brought home a 3rd for Commonwealth Ales with 37.5.
In another bit of surprise, Avout scored 36 and brought home a 3rd for Belgian Strongs.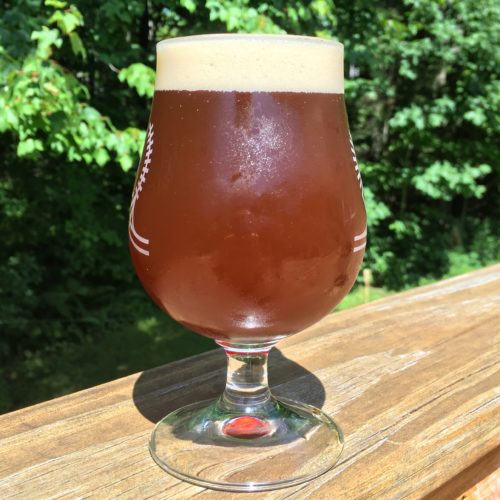 Last but not least — Avout's glorified starter, Glorified took 2nd in German Wheat, Belgian, and French with 29 — mostly because the bottles turned out to be gushers.1
(And I guess I already mentioned Naked Braggot's 3rd place win in Mead.)
Surprises
The 2019 competition brought a couple of other surprises with it.
First, the bummer: I was a mere one point shy of a three-way tie for Vermont Homebrewer of the Year. My good friends Chris and Justin tied, and I'm happy for them, but damn it's weird to have been that close. If only one other of the beers (or ciders) had edged into 3rd for its category. Oh well.
Second, I had jotted down predicted scores for most of the beers going into the competition. Generally speaking, almost everything out-performed my predictions. Sometimes significantly, but usually by only about 2-3 points.
Third… well, I can't talk about that yet.
Redemption
In last year's post, I had a heading that read "I'm sorry I made you drink that." wherein I basically apologized to a certain pair of judges about a certain APA that almost certainly suffered from petite mutants.
In what can only be described as fateful good fortune, both of those judges were paired again this year — and they happened to judge one of the two beers that went on to get 1st for its category. Comments like "Very drinkable. […] Nice work!" and "very nice example […] highly drinkable". Which makes me feel good, and I feel like it serves as an apology for last year.
By the Numbers
17 entries

2 ciders
5 meads (includes cyser and braggot)
10 beers (3 lagers, 7 ales)

51 bottles
Oldest: Syntactic Sugar at 595 days
Youngest: I.H.O.B. at 55 days
12 different yeasts
3 re-pitchings
1 blend (Syntactic Sugar + Literal Fidelity = Cyser)
Average overall score: 33.7

…for the beers: 32.7
…for the ciders: 32.5
…for the meads: 36.3

1 point shy of a three-way tie for Homebrewer of the Year (oh well)
Yes indeed. Happy with how the results came back for my creations at competition this year. Felt like a huge improvement over last year. Hit some goals while I was at it, too.
These bottles were all so uneven! I almost didn't enter it because so many of them had been prodigious foamers but… wouldn't have come up with a this 3rd without it so there's that. [↩]
About Rob Friesel
Software engineer by day, science fiction writer by night. Author of The PhantomJS Cookbook and a short story in Please Do Not Remove. View all posts by Rob Friesel →